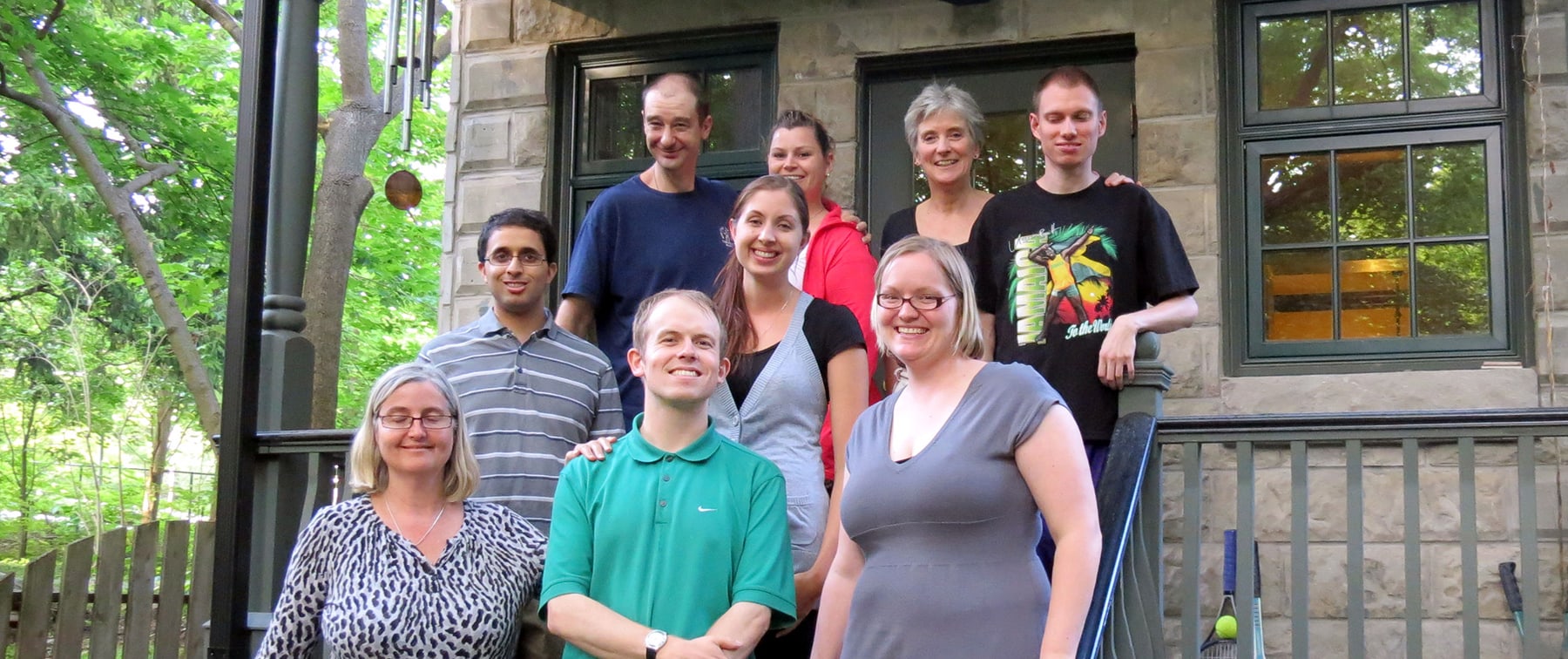 About Us: Autism Family Alliance
Autism Family Alliance began serving the needs of teenagers and adults on the spectrum of autism through innovative services in 2001 — offering specially designed programs incorporating the unique learning styles of ASD.
As a registered charity, AFA operates through a dedicated group of volunteers, who pride themselves on the fact that all the charity's funds go directly to services, not overhead or administration.
AFA's Directors and Officers are:
Penny Gill, President
Since the mid-1980's, Penny has devoted her life to working with her son, who is on the autism spectrum, and with several committees and organizations dedicated to serving those with special needs. She has presented at many workshops, legislative hearings and conferences, including as key-note speaker. Penny has published articles on autism and nutrition, and on educating those with ASD.
In the 1990's Penny was President of the Hamilton Chapter of Autism Ontario, when it was considered one of the most active chapters in that organization's history. Penny served as parent representative on the Autism Team, led by Dr. Peter Szatmari and Dr. Bill Mahoney, at Hamilton Health Sciences.
In a needs survey concerning adults on the spectrum of autism in Hamilton, most parents said they wished to keep their adult offspring with ASD at home for as long as possible, but wanted support doing so. To address this, Penny incorporated the Autism Family Alliance, which has provided educational services and resources to adults and adolescents with autism since 2001. Its flagship program is the cooking school. Penny oversees the charity's day-to-day operations on a strictly volunteer basis.
Penny holds a law degree from the University of Toronto and graduate degrees from the University of Toronto and McMaster University. She graduated with an Honours B.A. from McGill University, as the Prince of Wales Gold Medallist.
Chris Pibus, Secretary
Chris Pibus has supported AFA since its inception, and has served as Secretary since 2003. A parent of an adult with autism, Chris has been active as a volunteer assisting families through advocacy in the school systems. Chris served on the Executive of the Hamilton Chapter of Autism Ontario and spent 5 years representing the group on the Special Education Advisory Committee for the local school board. A graduate of McGill University and University of Toronto Law School, Chris practiced for 40 years as a lawyer specializing in Intellectual Property Litigation. He was appointed as a partner at Gowling WLG in 1990 and was recognized for his expertise over many years in Chambers Global, Lexpert, and Best Lawyers in Canada.
Rachel Barber, Treasurer
Rachel is a Board Certified Behaviour Analyst proudly providing services to families in Northern Ontario. She is a clinical Supervisor with Child and Community Resources and is the co-founder of Northern Outreach & Clinical Services, both based out of Sudbury, Ontario. She is passionate about working with teens and young adults on the autism spectrum with severe, challenging behaviours as well as building capacity in the North by providing supervision for those pursuing their Behaviour Analyst or Behaviour Technician credentials. She has been actively involved in the autism community since high school, when she established a social support group for a classmate with autism, which endures to this day. For many years Rachel coached in our cooking school, where she developed innovative teaching strategies, such as the Conversation Menu—which remains a key social/communication learning tool for our group.
Dianne Hickey, Director
Dianne Hickey is the mother of three daughters, the eldest of whom has a diagnosis of ASD. For many years, Dianne has been active in the autism community, serving on the Parents Council at Woodview Manor, and co-founding the AIM social skills group for teenage girls in Grimsby, Ontario.
Dianne was employed at Choices, a not-for-profit organization assisting adults with developmental disabilities, before moving to her current position in administration at the Department of Family Medicine at McMaster University, where she supports the Chair and Associate Chair.
Dr. Jessica Brian, Director
Dr. Brian is a Clinician-Investigator and co-Lead of the Autism Research Centre at Holland Bloorview Kids Rehabilitation Hospital in Toronto. She also holds an appointment as an Associate Professor with the Department of Paediatrics at the University of Toronto. Widely published in her field, Dr. Brian is actively engaged in a number of research areas, including child development, behavioural paediatrics and genetic studies relating to ASD. She is particularly active in the field of infants and toddlers with emerging ASD, studying early markers, developmental trajectories, and very early intervention.