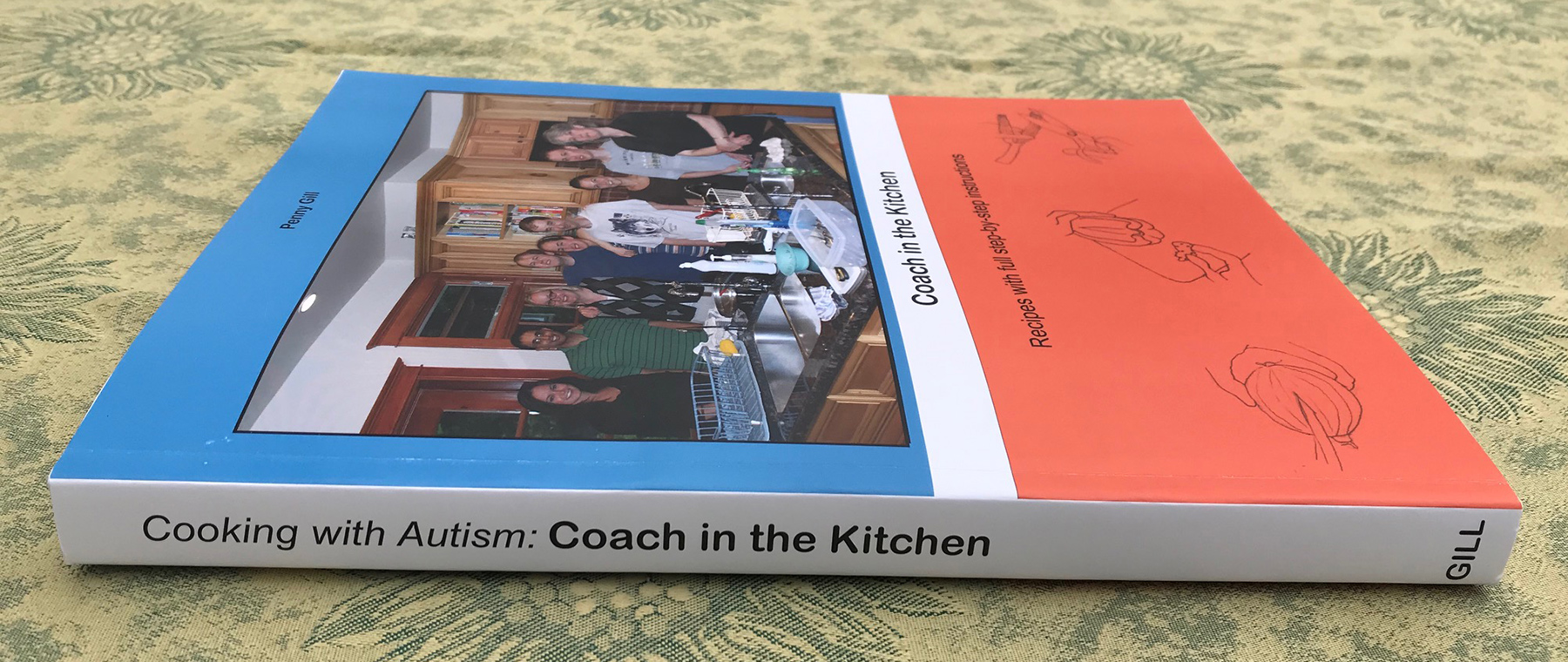 "Coach in the Kitchen" Autism Cookbook
Coach in the Kitchen is a one-of-a-kind cookbook, designed for those on the autism spectrum.
290 pages of task-analysed recipes—in small steps and clear terms—make explicit absolutely everything you need to do.
Coach in the Kitchen features a 36-page manual and toolkit on teaching groups of people on the autism spectrum to cook.
The cookbook includes guidelines on:
Effective teaching methods for students on the autism spectrum
Instilling healthy eating habits, using documented ASD learning styles
Building conversation skills using The Conversation Menu—a unique tool created by our cooking school
Quelling student anxiety
Developing cooking and social skills with visual teaching tools
Introductory activities
Facilitating social development at mealtime
Illustrations accompany written instructions for certain tasks
Triple-tested for clarity and favour by students and coaches in the cooking school we've run since 2002 for teens and adults on the autism spectrum, these recipes are clear and easy to follow.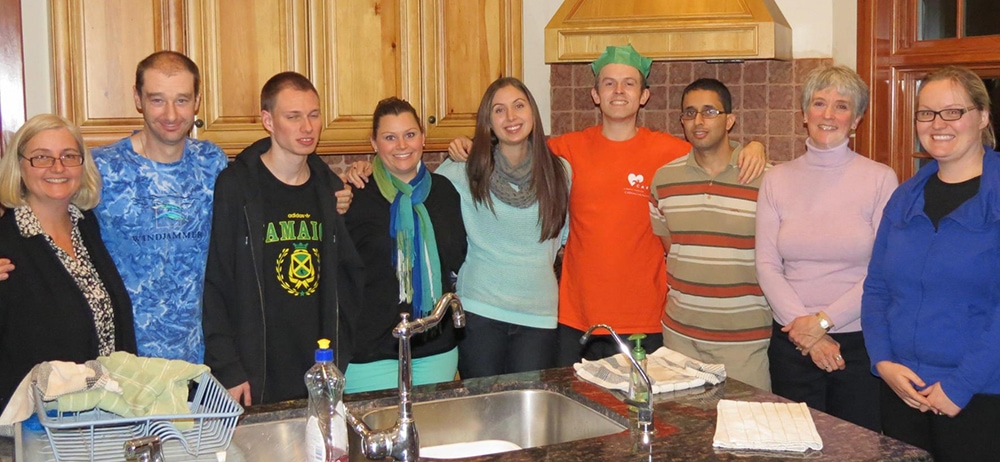 Who is the cookbook best suited for?
Specially developed for persons on the autism spectrum, this cookbook can help anyone learn to cook.
Each recipe lists all utensils and appliances needed. Major appliances—oven, stovetop, microwave—are listed too. You'll see in a glance if the utensils and appliances required are ones you want to use.
Ingredients are listed in both imperial and metric measures.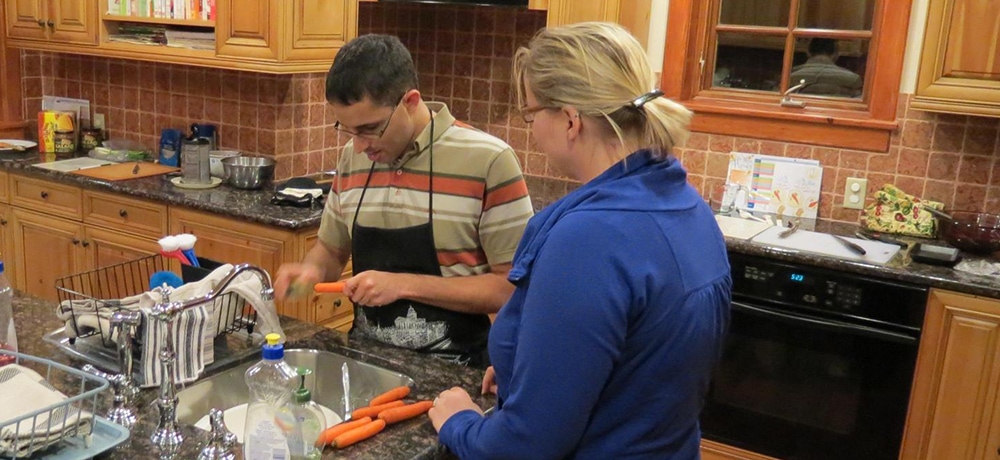 Recipes
Recipes are grouped in 3 sections:
Main dishes
Salads, soups and side dishes
Baked goods and desserts
Each section orders recipes from easier to harder.
Take a look at some of our sample recipes below: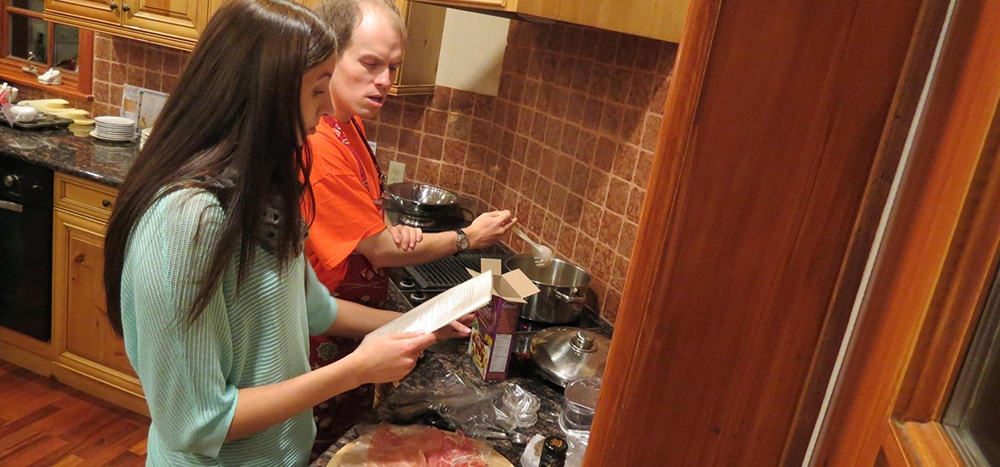 A few testimonials about the Coach in the Kitchen cookbook
"Thank you for creating this cookbook! I've searched for something like this my entire life. When I read through your sample recipes online, you have no idea how happy and excited I became.
No one else understands why cooking is so difficult for me. To them existing recipes are already extremely clear. But every step stymies me—from understanding the steps of the recipe, to having the correct tools/bowls/pots, to the correct timing of stirring and cooking, to serving, to putting leftovers away.
Your cookbook may be the first validating thing I've ever found. Thank you SO MUCH!!!"
L.S.
Massachusetts, USA
"My son and I made the 'Fish with Tortilla Chip Coating'. What a fantastic experience! The recipe is so well organized, setting out Utensils & Appliances, then Ingredients, and then Instructions sooo clearly. I have to say, it was a wonderful learning experience for everyone involved, from the ages of 36 to 70.
Thank you so much for this!"
Rose Schonblum
Parent
Toronto, Ontario
"Coach in the Kitchen is more than a cookbook! It is a wonderful teaching tool and resource for preparing healthy, delicious recipes for individuals of all abilities! The individuals I support in living independently find the step-by-step checklist for ingredients, the lists of utensils required to prepare the meal, and the visual step-by-step instructions are very helpful tools in preparing a recipe successfully with confidence."
Brenda McBride
Adult Protective Services Worker
Catholic Family Services, Hamilton Ontario
This excellent cookbook, "Coach in the Kitchen", provides explicit, detailed food preparation and cooking instructions for recipes that my son can follow independently. The recipes are delicious and healthy; and using his own cookbook gives my son confidence and encouragement to practice and improve his food preparation skills.
Donna Thomas
Parent
Oakville, Ontario
The impeccable analysis of tasks is the basis for the success of the unique cookbook, "Coach in the Kitchen". The well thought-out, foolproof recipes make this an accessible cookbook for many otherwise "non-cooks". Procedures usually left unstated in other books are here explained in simple steps and even pictured!This cookbook's benefits do not end with the recipes and meals, but much like good food, feed us in many ways, our bodies for sure but also our minds and souls. The scope of this cooking school and its resultant cookbook encompass the social aspects of creating and sharing meals together. The same detailed approach is evident in the process for creating successful interactions as in creating successful meals.A big thank-you to the Autism/PDD Family Alliance for this ground-breaking cookbook, packed with recipes and ideas so generously shared. For educators, therapists and families, a great resource!!
Beverly Bronte-Tinkew
Speech Language Pathologist
Hamilton, Ontario
Everyone who saw the cookbook at the Special Olympics qualifier said it is perfect not only for their challenged adult child, but also for their children going off to university or college who aren't very experienced in the kitchen. Many parents had found the same problem teaching their autistic teen or young adult cooking as I had. The cookbook is great.
Judy Walker-McCall
Stoney Creek, Ontario
Having observed firsthand the remarkable cooking classes that generated the delicious recipes in the "Coach in the Kitchen" cookbook, I am so happy that the book includes detailed information on how to run similar classes elsewhere. I have seen students in the cooking school—like my son—grow in confidence and self-esteem with each successful meal they prepare. To duplicate the joyful atmosphere in that kitchen is worth anyone's effort.
Mary Anne Ewer
Stoney Creek, Ontario