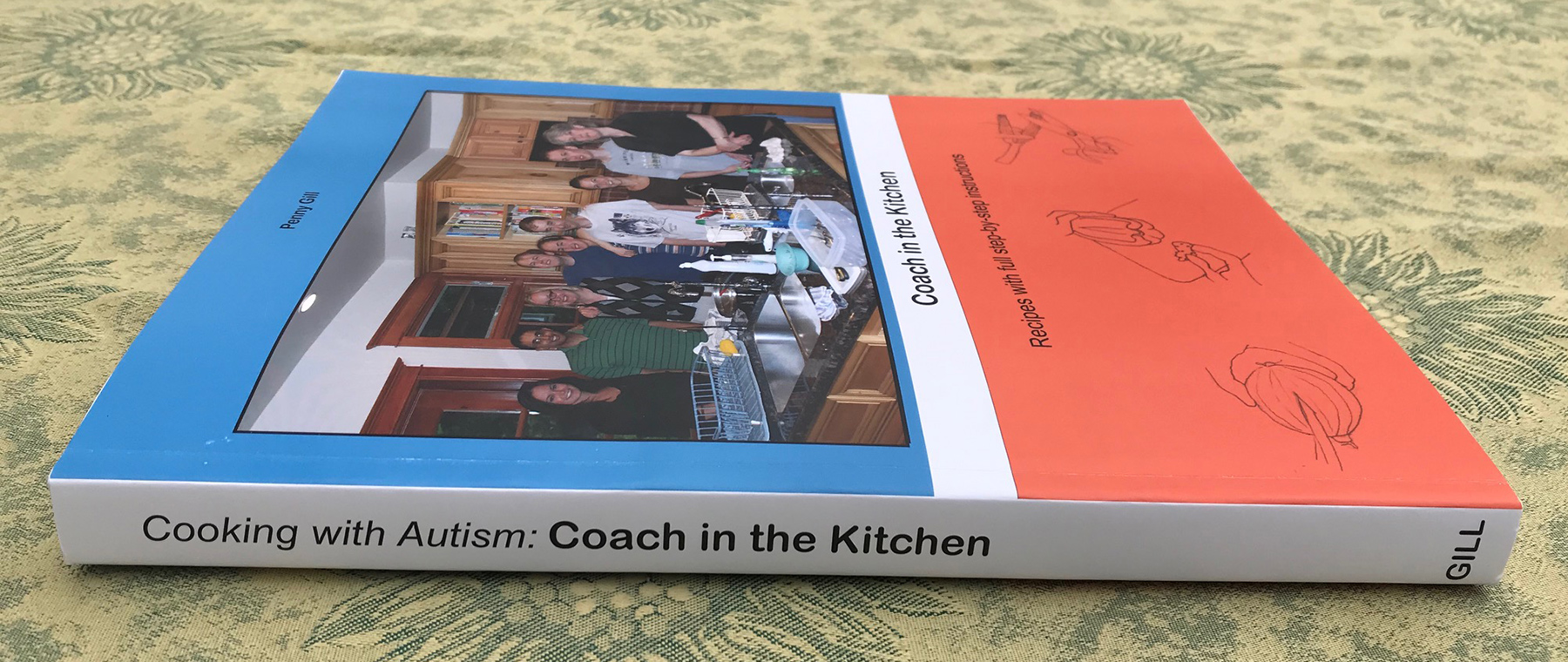 Autism Cookbook Recipes – 290 pages of recipes!
Well-designed recipes are the key to our students' cooking success. Everything is set out in small steps and simple language. Nothing is left to guesswork. Now you can share this success in your own home or school using our Coach in the Kitchen cookbook.
Our recipes suit the eating habits and enhance the health of students in our cooking school for adults and teens on the autism spectrum. Most people (with or without autism) don't eat enough fruits, vegetables or whole grains. We've successfully addressed this in our cooking school by presenting recipes that blend whole grains with refined grains in baked goods, so that fibre is present without neglecting texture or flavour. We've also found that fruits and vegetables previously shunned are accepted when garnished with appealing sauces or baked in desserts.
Recognizing that people on the autism spectrum often have highly idiosyncratic eating habits, the 290 pages of recipes in our cookbook include a wide range of foods. There's something here for everyone—for those who love pasta, or breaded foods, or cheese, pizza, chicken, sausage or rice; for those who like baked goods or who only eat gluten-free or casein-free food, or GFCF. We've covered all bases in the consumption tendencies of ASD, but done so without compromising nutrition.
What recipes are included in The Coach in the Kitchen?
Some main dishes are…
Spaghetti with Sausage Tomato Sauce
Oven BBQ'd Chicken
Fusilli, Cheese, Tomato Casserole
Mini Pizzas
Pork Parmigiana
Spanish Rice
Oriental Meatballs
Seasoned Chicken Burgers
Potato, Sausage, Cheese Casserole
Fish with Tortilla Chip Coating
Some main dishes (continued)…
Baked Stuffed Potatoes
Chicken in Peanut Sauce
Chinese Beef Burgers
Pizza Pockets
Basa with Mozzarella Topping
Crispy Baked Chicken
Scallops Oriental
Rotini with Hummus Sauce
Ground Turkey Meatloaf
…and more
Some soups, salads, and sides are…
Caesar Salad Vinaigrette
Broccoli with Parmesan Topping
Ginger Carrots
Asparagus with Molasses-Garlic Sauce
Green Beans Almondine
Sugar Snap Peas with Sesame
Maple-Glazed Brussels Sprouts
Pumpkin Soup
Arugula and Leaf Lettuce Salad
Broccoli with Toasted Pine Nuts and Cranberries
Asparagus with Caesar Sauce
…and more
Some bakes goods and dessert are…
Apple Pear Crumble
Pumpkin Spice Muffins
Strawberry Bread Pudding
Poppy-Seed Lemon-Glazed Muffins
Bumbleberry Squares
Honeydew Melon with Cherry Berry Sauce
Molasses Cornmeal Cake
Creamy Fruit Salad
Pumpkin Bread
Cornmeal Raspberry Muffins
… and more