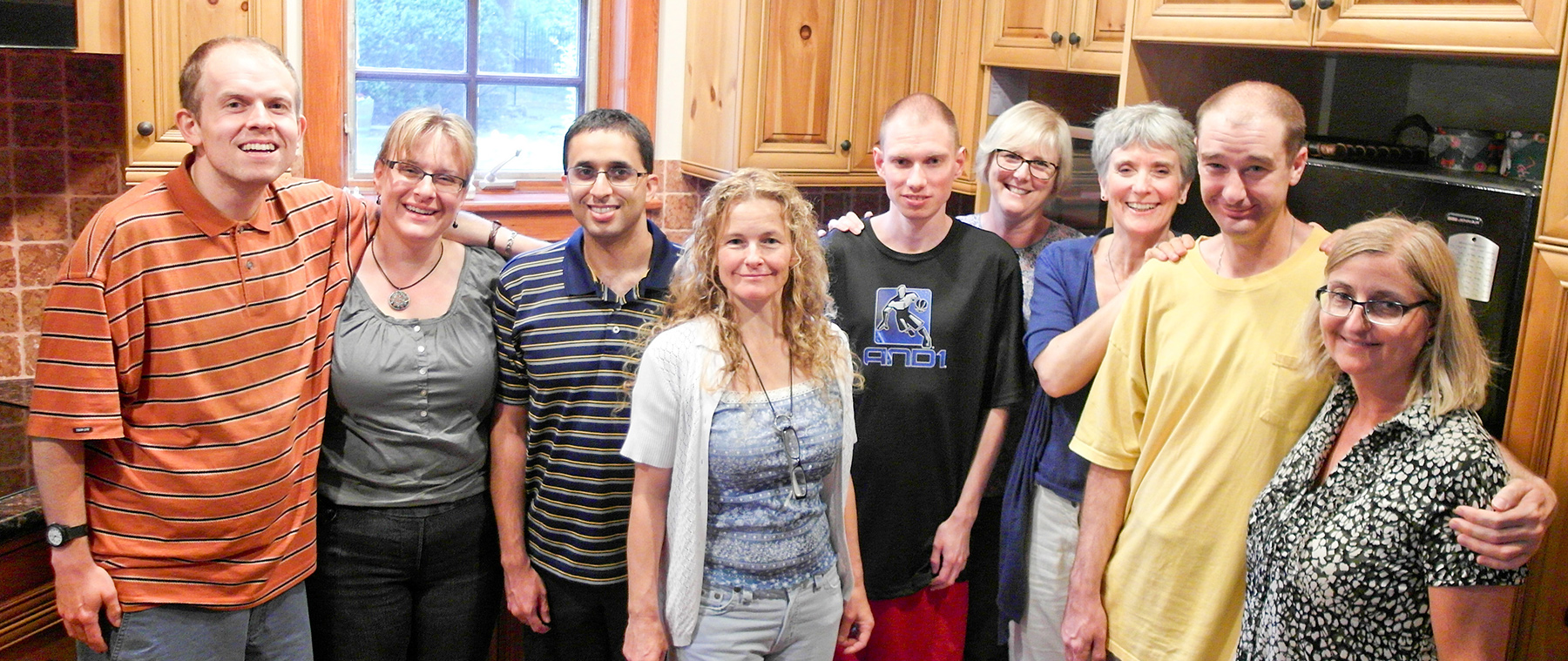 Cooking School for People on the Autism Spectrum
Our cooking school began in 2002, providing top-quality instruction for adults and adolescents on the autism spectrum.
Finely-honed teaching methods raise our students' abilities to impressive levels. It is no exaggeration to say that our students learn to cook far better than members of the general population. They prepare meals on the high-end of home cooking, displaying this skill wherever they reside—whether in the family home or an assisted-living arrangement. Some of our students have found jobs preparing food in restaurants.
Our service model engendering this success differs from many other adult services. We employ a one-on-one teacher-to-student ratio. Our teachers (known as coaches) all have prior, verifiably successful experience working with persons on the autism spectrum before joining us. We give additional training, specific to our cooking program, and provide opportunities to attend quality courses on ASD.
Beyond teaching our students how to cook really well, we use non-coercive strategies to help them overcome unhealthy eating habits.
Our cooking classes always culminate in shared meals, where conversation and social skills are cultivated.
We've hosted service providers from other cities—even from other countries—who want to learn how to run cooking classes like ours. In our cookbook, we set out step by step how to replicate our cooking school. Now anyone with a kitchen and the determination to help people on the autism spectrum have better lives can teach them how to cook really well.
We love the cooking school! We are thrilled that you have developed such an outstanding format for teaching this much-needed life skill. The cooking class is unique in its structure for and delivery to our higher-functioning children. Not only are the cooking tasks broken down into manageable steps, but also the one-to-one teacher-to-student ratio solidifies the life skills learned. More than this, the social skills and camaraderie shared goes beyond the kitchen setting. And that is priceless. Accolades to the Autism/PDD Family Alliance for all its hard work. The "Coach in the Kitchen" cookbook is a great resource for any cook.
Our autistic son has attended the cooking classes run by Penny Gill and her charitable organization, Autism/PDD Family Alliance, for a number of courses. He has advanced significantly in both his interpersonal/relationship skills and his cooking skills and confidence since the very first class.

This advance has been significantly augmented by the publication of the recipe book "Coach in the Kitchen".

We are truly amazed at the concise and yet simple outlines that have been documented for each recipe stage as well as the nutritional value of the recipes selected.

The book would benefit any person with a perceptual or communications challenge, irrespective of their age. All that would be required of the user would be the ability to read basic written language and an appetite.

The encouragement to cook for oneself fosters in the participant a deeper understanding of the importance of diet and food knowledge while fostering independence and an improvement of confidence and self-worth. On all levels this publication, built on the hands-on experience created by managing and organizing the classes, succeeds. Congratulations on such a fine endeavour!
The cooking school helped to improve not only my son's cooking skills, but also his confidence and sense of self-worth. He enjoyed the friends he made and the social aspects of the course. A great experience!
For Christmas dinner we were invited to a home where Alissia was put at a table with other young people her age. From where I sat I could hear her talking. She did an excellent job of starting and carrying on conversations. She started one on what movies they had seen lately, and another one on holiday plans. I realized right away that these were conversation starters from your cooking class and that she was able to keep the conversation going with great questions and observations only because she had practiced these at your dinner table. Thank you so much. It made the dinner with people whom we really did not know that well so nice.